TRAINING COURSE on DISTILLATION PROCESS - CBT / WBT
The Distillation Process Training Course has been developed to understand the Distillation and Fractionation Process. The training course covers the basic principles involved in the process and goes on to cover the various Distillation Practices and various equipment and components like Distillation Column, Distillation Tower, Bubble Cap Trays, etc. Primary calculations like the McCabe-Thiele Method are covered in intricate detail using Graphics and Animation. The training course, designed with extensive Graphics and Animation, gives a virtual Practical exposure on the Process and is sure to provide a very useful insight to personnel involved in Maintenance and Operation of the Distillation system.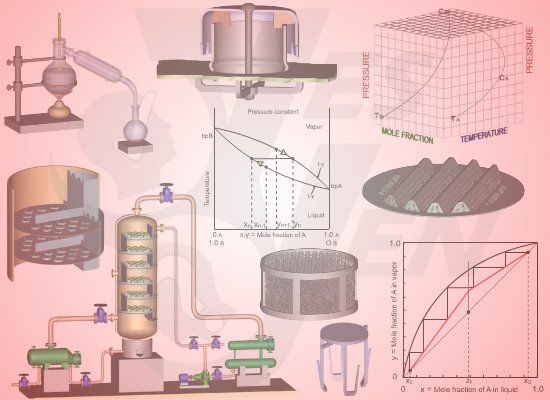 *The above image is a compilation of a few 'snapshots' from the Training Course
on Distillation and Fractionation, which primarily focuses on Multimedia inputs like Graphics,
Animation and Interactivity!
Computer Based Training (CBT) courses /
Online Web Based Training (WBT) Courses for
Industrial Operation, Maintenance & Technical Skills
ONLINE WBT / CBT ON DISTILLATION PROCESS -
A FEW HIGHLIGHTS
Vapor‐Liquid Equilibria and related principles covered in detail
Various Distillation Practices described
Detailed coverage on Fractionation Equipment & Operation
In‐depth understanding achieved by 2D / 3D Graphics, Models & Animations
Skill tests, Certificate printouts.
The Distillation Training Course / Fractional Distillation Training Course / Fractionation Training Course, covers the various Distillation Practices including Fractionation (Fractional Distillation) in Explicit detail.
The Distillation Training Program intricately covers Vapor Liquid Equilibria and covers topics like Pressure Temperature Phase Diagram, Constant Pressure Equilibria, Relative Volatility, Constant Temperature Equilibria, Raoult's Law, McCabe-Thiele method, etc. towards providing an in depth understanding on the Distillation Process.
The primary focus on Distillation Graphic / Distillation Animation in the CBT helps in very clearly understanding the Distillation Process, Distillation Operating Principle / Distillation Working Principle and the Construction and Operation of Distillation Columns / Distillation Towers...
The DISTILLATION PROCESS TRAINING course provides a
Practical - Comprehensive understanding on the subject!
For other license options (recommended for trainers / industries - with customized logo inclusion) like "Standalone" and "Multiple User" please CONTACT us)
DISTILLATION / FRACTIONATION - COURSE CONTENT
1. Introduction
2. Vapor‐liquid equilibria and distillation

2.1. Pressure – Temperature ‐ Concentration Phase Diagram
2.2. Constant ‐ Pressure Equilibria
2.3. Constant ‐ Temperature Equilibria
2.4. Relative Volatility
2.5. Raoult's Law
2.6. Positive deviations from ideality – Min. Boiling Mixtures – Azeotropes
2.7. Negative deviations from ideality – Max. Boiling Mixtures – Azeotropes
2.8. Homogenous Azeotropes
2.9. Positive deviations from ideality ‐ Heterogenous Azeotropes
2.10. Positive deviations from ideality ‐ Insoluble Liquids
2.11. Multicomponent Systems
3. Distillation practices

3.1. Flash Distillation
3.2. Simple Distillation / Differential Distillation
3.3. Continuous Distillation with Rectification (Reflux Distillation)
3.4. Continuous Distillation with Rectification and Stripping – Fractional Distillation

3.5. Analysis of Fractionating Column ‐ McCabe‐Thiele method

3.5.1. Rectification Section
3.5.2. Stripping Section
3.5.3. Introduction of Feed
3.5.4. Construction of Operating Lines
3.5.5. Number of Stages and Trays
3.5.6. Total Reflux
3.5.7. Minimum Reflux Ratio
3.5.8. Optimum Reflux Ratio
3.5.9. Multiple feeds

3.6. Fractionation ‐ Packed Towers
3.7. Fractionation – Multicomponent systems
3.8. Petroleum Refining
3.9. Vacuum distillation
3.10. Steam distillation
3.11. Destructive distillation
3.12. Azeotropic distillation
3.13. Extractive distillation
4. Fractionation equipment and operation

4.1. Shell

4.2. Distillation Column Internals (Distillation Tower Internals)

4.2.1. Distillation Tray Towers

4.2.1.1. Weir and Liquid depth
4.2.1.2. Flow arrangements

4.2.1.3. Tray Types

4.2.1.3.1. Bubble Cap Trays
4.2.1.3.2. Sieve Trays
4.2.1.3.3. Valve Trays

4.2.2. Distillation Packed Towers

4.2.2.1. Random Packing
4.2.2.2. Regular Packing
4.2.2.3. Packing supports
4.2.2.4. Liquid Distributors
4.2.2.5. Other Components

4.3. Reboiler

4.3.1. Jacketed vessel Reboiler
4.3.2. Built‐in Reboiler
4.3.3. Kettle‐type Reboiler
4.3.4. Thermosiphon Reboilers

4.4. Condenser / Reflux Drum

4.4.1. Total Condenser
4.4.2. Partial Condenser

4.5. Operation of Tray and Packed Towers
5. Conventional and Interactive Skill Tests with Evaluation
---
The DISTILLATION PROCESS TRAINING course provides a
Practical - Comprehensive understanding on the subject!
For other license options (recommended for trainers / industries - with customized logo inclusion) like "Standalone" and "Multiple User" please CONTACT us)