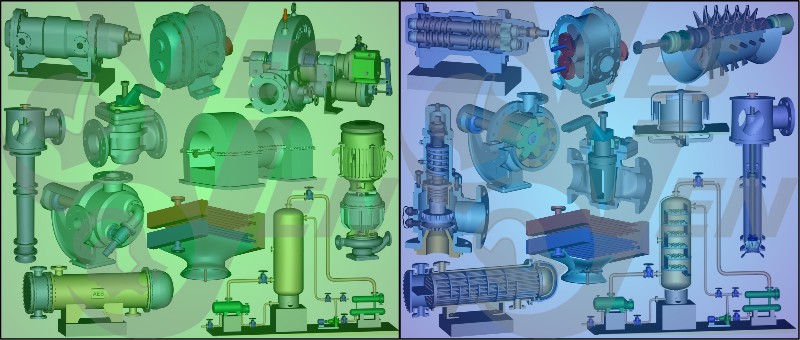 FREE – INDUSTRIAL EQUIPMENT MAINTENANCE TRAINING - VIDEOS / TUTORIALS – EQUIPMENT TYPES / CLASSIFICATION / DESCRIPTION / GAMES with Graphics and Animation
*Note
- The below listed content are
NOT representative
of the
Industrial Training Courses
listed in the
Product page
(the below content only provides a basic explanation on some popular equipment).
- The Training Courses listed in the Product page provide a very exhaustive explanation with highly intricate
Animation and Graphics.
- The Demos/Tours of the Training Courses listed in product page can be viewed at
http://yesyen.com/industrial_maintenance_training_courses_demo.php
Equipment maintenance training is a major task in any Industry. Yes Yen has been involved in the development of training content for Industrial Maintenance. Towards providing the most effective form of practically oriented training, the deliverables extensively focuses on multimedia deliverables like interactive Animation, Graphics and Videos. The Equipment Animation and Graphics includes intricate cut-sections, step-by-step assembly - dismantling, operation, etc.
To provide a clear basic understanding for anyone interested in this field, FREE Industrial Maintenance training Videos and tutorials (listed below) have been developed on some popular equipment.
Equipment Maintenance Training Videos provides a step-by-step information on maintenance aspects and working principle.
The tutorials provide a basic knowledge on popular Equipment like Valves, Centrifugal Pumps, Compressors, Heat Exchangers etc. The Description is provided with Animation and Graphics, for a very clear understanding.
Equipment Classification describes various content like Centrifugal Pump API-610 Types, Compressor Types including Dynamic, Rotary and Reciprocating Compressors, Valve Types, Rotary Pumps and Reciprocating Pumps, etc.
Interesting Equipment Games evaluate the understanding on different Mechanical Equipment.
Avail Free INDUSTRIAL EQUIPMENT MAINTENANCE VIDEOS and TUTORIALS from respective links below.
View Industrial Maintenance Training VIDEOS related to Equipment Maintenance
VIEW VIDEOS


Click to view Gear Pump Working Animation
(SIMPLIFIED extract [for video] from the Positive Displacement Pump Training Course with various Types of
Rotary and Reciprocating Pump Working Animation)

Click to view Screw Pump Working Animation
(SIMPLIFIED extract [for video] from the Positive Displacement Pump Training Course with various Types of
Rotary and Reciprocating Pump Working Animation)

Compressor Working
(The video is a SIMPLIFIED extract [for video] from the Compressor Training Course
that describes a Four Stage Reciprocating Compressor Working)
Mechanical Seal Installation - A Dismantling Procedure
(The above video is a SIMPLIFIED extract [for video] from the Mechanical Seal Training course that briefly explains a typical Mechanical Seal Dismantling process)
Centrifugal Pump Working Principle / Theory
(The above video is a SIMPLIFIED extract [for video] from the Centrifugal Pump Training course that briefly explains the Working Principle of Centrifugal Pumps)