TRAINING FOR
- PROCESS PLANT OPERATORS
- INDUSTRIAL MAINTENANCE
- COMMUNITY COLLEGES
Pressure Swing Adsorption Process (PSA) is a technology used to separate some specific gases from a mixture of gases. In a Refinery, Hydrogen Purification is achieved using the Pressure Swing Adsorption method. For Hydrogen Recovery (separation from impurities), the PSA unit at high pressure, utilizes the affinity of Hydrogen to an adsorbent material to recover the same. Later the unit swings to low pressure for regenerating the adsorbent material.
The Training Module covers a typical Pressure Swing Adsorption cycle, which is explained with step by step animation.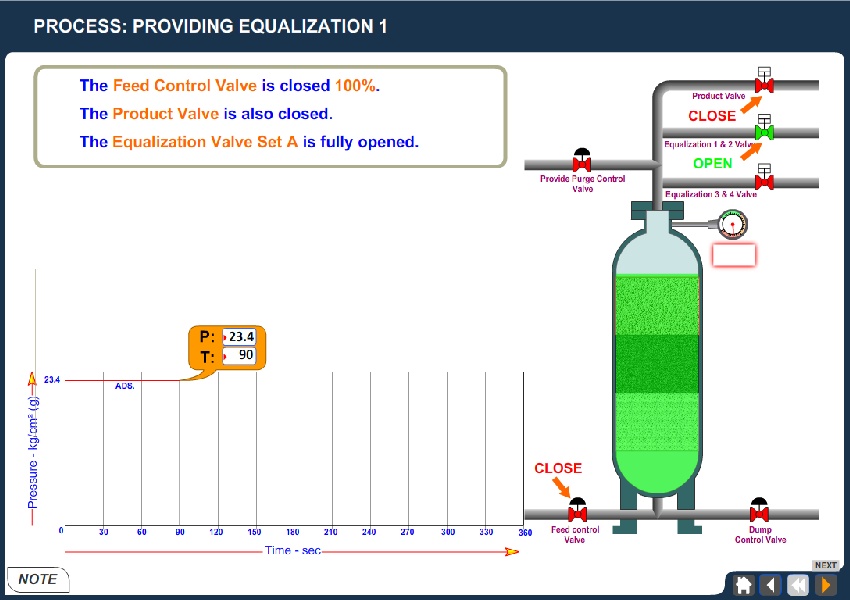 Figure above is a snapshot from the Pressure Swing Adsorption (for Hydrogen Recovery) Training module
The sequence of valve operation over the entire process is covered in explicit detail. The Pressure Swing Adsorption Cycle process is plotted across pressure and time to give a complete understanding on the operation procedure.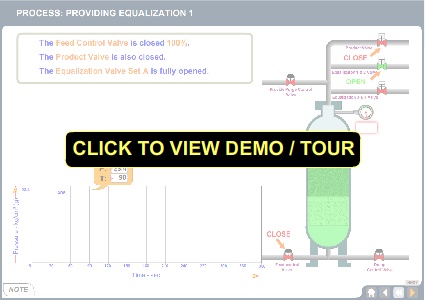 We can develop similar content CUSTOMIZED to SPECIFIC Flow Diagrams / P & I Diagrams / Process Flow / Equipment Working, etc for REFINERIES & PROCESS INDUSTRIES.
Process Industries / Refineries are requested to contact us for a FULL DEMO of the above Training Module on "Pressure Swing Adsorption Process", using the below form.