TRAINING FOR
- PROCESS PLANT OPERATORS
- INDUSTRIAL MAINTENANCE
- COMMUNITY COLLEGES
In a Refinery the Hydrocracking Process which occurs in the Hydrocracker Unit (HCU) is a type of hydro processing operation where heavy oil is cracked in the presence of a catalyst and Hydrogen to give cleaner fuels. Diesel Hydrotreating (DHT) occurs in the Hydrotreater Unit and involves the removal of impurities like sulphur and nitrogen from diesel feed in the presence of a catalyst and Hydrogen.
The Training Module covers a typical integrated Hydrocracker unit and Diesel Hydrotreating unit operation, which is explained with step by step animation. The combined HCU & DHT utilizes a common Make-up gas compressor, Recycle gas compressor and Light Ends recovery system. An exclusive chapter that covers the construction and operation features of breech lock (High pressure) exchangers is included. Breech lock exchangers are extensively used in the HCU because of the high pressure requirements of the process.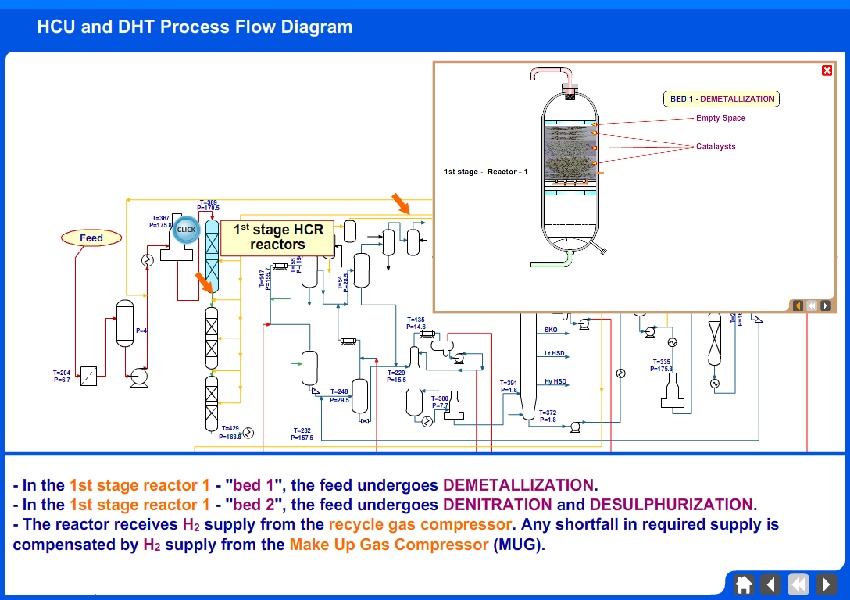 Figure above is a snapshot from the Hydrocracking and Diesel Hydrotreating Training module
The description indicates the general pressure and temperature ranges across the process flow. It also describes the various equipment and reactions involved in the hydrocracking process and diesel hydrotreating process.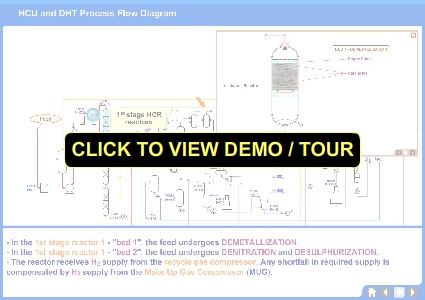 We can develop similar content CUSTOMIZED to SPECIFIC Flow Diagrams / P & I Diagrams / Process Flow / Equipment Working, etc for REFINERIES & PROCESS INDUSTRIES.
Process Industries / Refineries are requested to contact us for a FULL DEMO of the above Training Module on "Hydrocracking (HCU) and Diesel Hydrotreating (DHT)", using the below form.